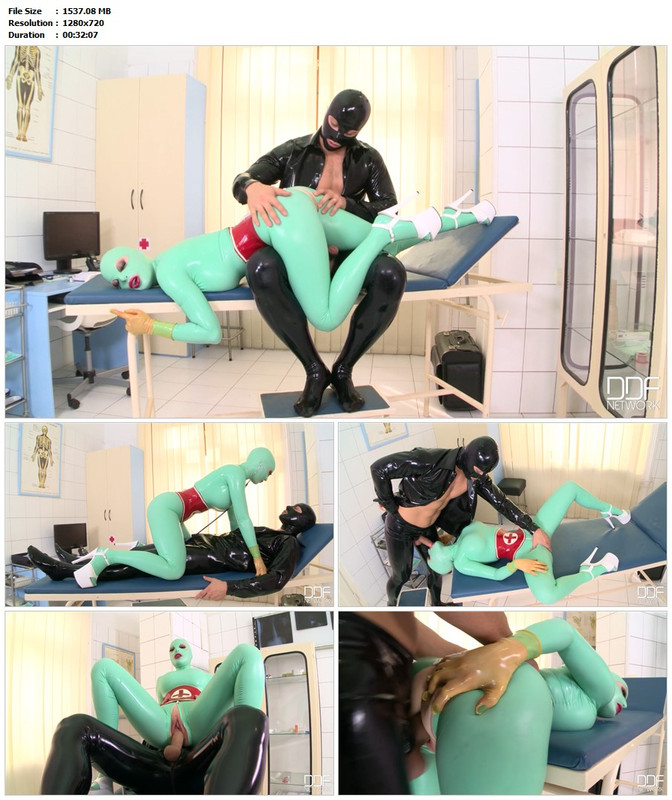 Latex Lucy – A Latex Clinic No Other
Medicine is practiced differently at Dr. Latex Lucy's Kinky Klinik. All patients must put on latex suits before they can see the doctor. Case in point, Mugur as he stretches out on the examining table in this fetish XXX video. With her stethoscope, through his black latex body suit, Lucy listens to the blood beating in his boner. See? Definitely unorthodox methods.
Once she ascertains his organ is rarin' to go, she sucks it. For this she is rewarded with a spanking. And a fingering of her shaved pussy through the open zipper crotch of her turquoise latex body suit. And a cowgirl ride on that aforementioned boner.
Yes, Latex Lucy is different from any other doctor on this planet when she does her thing at the Kinky Klinik. She inhales cock and gets boffed to help her patient Mugur heal. Kinda surreal! Where the doctor takes the medicine–a blast of cum on her tongue. Yes, bizarre. See what we mean as you study and stroke to her new Full HD latex video.

gil1064.part1.rar
gil1064.part2.rar
gil1064.part3.rar
gil1064.part4.rar
Related latex fetish posts